Benefits of Professional Grade Exterior Pressure Washing in Syracuse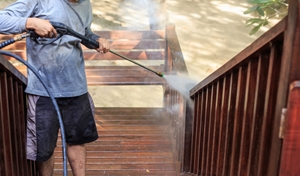 Not sure if a professional grade exterior pressure washing in Syracuse, NY is right for you? Then it may be time to take a hard look at the exterior of your home or business and try to see it from the perspective of someone else. It can be easy to be blind to the condition of your own home unless you can see it through someone else's eyes. Think back to all of the times that you saw a dirty house and wondered why they did nothing about it and then realize that you may be doing the exact same thing.
Making Changes
A dirty exterior can have quite an impact on your home, including the overall property value of your house and other homes in the neighborhood. Of course, you also can't make much of a first impression on neighbors and guests if you don't have the squeaky clean exterior needed to make this happen. If you want to maximize your curb appeal, you need to be able to have a clean exterior. Not to mention, do you want to pull into your driveway and look at your dirty house each day?
How can you have the home of your dreams without making sure that it is as clean as possible? Keep in mind, that it goes beyond just dirt and having a home that looks run down; it is also about protecting it from things like algae that can damage your home. This is especially true on surfaces like your roof and decking. Without removing dirt build up quickly, you may soon find that what is discoloring certain parts of your home is actually eating it away and destroying it.
The good news is that you can put an end to all of this by simply taking care of letting a professional painting contractor come in and provide you with a quality pressure washing. This removes all of the build up and is like hitting the reset button. Not only will everything look better but you will be able to feel better knowing your asphalt shingles or wood deck planks are being broken down by fungus. Now, the only name that you need to know to take care of this problem is Team Prestige Painting - the local experts for exterior pressure washing in Syracuse, NY.
Call for Exterior Pressure Washing in Syracuse
When you call on the exterior pressure washing experts here at Team Prestige Painting, you can rest assured that you are getting the best in cleaning work. We take great pride in the work that we do and that is evident in the results that we are able to get for our clients, each and every time. Don't keep putting off such an important task; give us a call today so that we can take care of exterior pressure washing in for your home.
If you are looking for an expert for exterior pressure washing in Syracuse, NY, then please call 315-632-8164 or complete our online request form.