Expert Exterior Pressure Washing in Syracuse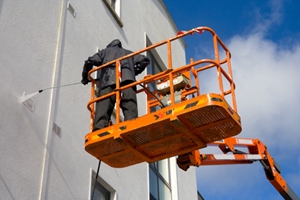 Opting for a pressure washing professional to take on your exterior cleaning service needs is a smart choice to make. An even better decision is to make sure that the name that you entrust to take care of this work is Team Prestige Painting. We take great pride in the work that we do, from our variety of painting services to our exterior pressure washing services, and that shows in the results that we get for each and every one of our clients.
The problem is that some homeowners think that pressure cleaning the exterior of their house is the type of service that they can take care of on their own. The problem is that you can end up causing damage to your home or being disappointed with the results. You go to your local home improvement store and rent a pressure washer, not of the same standards as the professional grade we use at Team Prestige Painting. The end result is either not enough pressure so that all you do is move dirt around, or too much pressure and you end up damaging the siding, roof shingles, concrete or other surfaces. Don't take that risk. Call our professionals, known for providing proper exterior pressure washing in Syracuse, NY and the surrounding areas.
Pressure Washing Professionals
So, the only logical solution is to let an expert take care of this service for you, which is where we come into the picture. Whoever it is that you have a consultation with, in order to try to make the right decision, there are some things that you should find out about before making your selection. For instance, it is a good idea to discuss with them the amount of pressure will be used during the power washing process. You want someone who knows when to use a great deal of pressure and which surfaces you should be more careful with.
You can also ask about water temperature, since it is better to use warmed water on things like grease. Of course, treat this like a standard job interview too. Ask for references and make it a point to follow up on those references. Also, make it a point to only work with pros who have their licensing and insurance; there is no excuse to carry out services for residential or commercial clients without the required minimum to operate.
Exterior Pressure Washing in & around the Surrounding Areas
If you are ready to take your home or business to the next level of clean, then you need to call on us to provide you with superior quality exterior pressure washing in Syracuse, NY or any of our surrounding service areas. When you rely on the Syracuse painting services experts here at Team Prestige Painting, you can rest assured that you are getting the best of the best. We take the time needed to discuss the process with you and then treat your property with the same care we would our own, if not more. Call our pressure washing and painting contractors in NY today to get started. Or, use our online booking system to schedule your appointment.
If you are looking for a professional for exterior pressure washing in Syracuse, NY or nearby, please call 315-632-8164 or complete our online request form.