Deck Staining & Painting Experts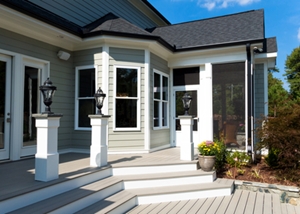 One of the best ways to preserve the look of your outdoor living space is through deck staining and painting services in Syracuse and the surrounding areas. This will not only enhance the appearance, it will help to preserve it so that you can extend the longevity and improve the performance. The name to trust in is Team Prestige Painting for all of your residential and commercial service needs. Your home is your biggest investment, as is every feature that you add – such as your deck. You can rest assured our deck staining and painting specialists will take extra care to make your outdoor living space look its best.
It only makes sense to want to take care of and protect your deck in order to protect your investment. Don't let time ravish this aspect of your home when we can work with you in order to help preserve it. Whether you want to stain or paint it, we can team up with you to help you better understand the options that you have and make sure that you make the best choice possible.
Deck Staining in Syracuse, NY & the Surrounding Areas
The main thing to know is that there are several main types of wood staining products for you to choose from, including:
Solid Color – Like a paint, this covers the wood completely and conceals the wood grain appearance but not the texture.
Semisolid – This has less pigment than solid color so that you can see some of the natural wood grain and leaves no surface film.
Semitransparent – This contains enough pigment to alter the color but does not conceal the look of the grain.
Clear Toner – This does not add color to the wood or conceal the wood grain.
Aside from that, you have bare woods which will turn gray and rot if left unfinished or unpainted for too long. Our deck staining experts can assess the current condition of your deck, see how old it is and what it is currently coated with, in order to provide you with the options that you have. From there we can offer guidance on making the best decision and then provide you with the stain that will enhance the look and performance of the wood.
Deck Painting Specialists
Deciding whether you want our deck painting professionals transform it with solid paint or would rather keep the natural look of the wood by having us stain your wood deck is completely up to you, unless your individual circumstances require one or the other. In some cases paint is the best option because the wood is no longer in a condition in which you want it showcased with just stain. As your painting contractor, we want to work with you in order to help prevent this from happening, if at all possible. Get in touch with our deck painting and wood staining experts here at Team Prestige Painting today and let us address your service needs.
If you are looking for a deck staining and painting professional, please call 315-632-8164 or complete our online request form.