Clay Painting Contractor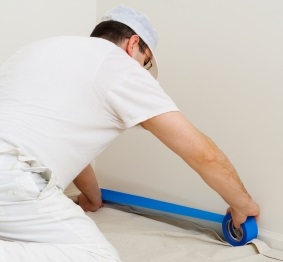 Selecting a Clay painting contractor may not sound like a fun task to take care of but it certainly is an important one. You want to be sure that you are going to get the final results that you had hoped for but this may not be possible if you choose the wrong house painter in Clay, NY. In fact, you could end up paying too much for shoddy workmanship and still end up calling in another pro to fix the work. Or, you could simply make the wise decision to call on the experts here at Team Prestige Painting and be certain that you are going to be happy with the final outcome.
Trust us, there really is a difference between one painting contractor in Clay, NY and another – a big difference. Too many other so-called pros are more focused on the quantity of jobs they do not the quality. Even worse, many of these self-proclaimed experts don't even have the proper credentials to get the job done, such as a business license and insurance. This is sure to lead to disaster and means that you will be unhappy with the results that you get.
Painting Contractor in Clay
You want your house to be the home of your dreams but you don't even hire the best painting contractor there is in the Clay, NY area. This process should never be just about the lowest possible price quote; it is about value. This means getting the best work for the most reasonable price, including getting the finest in quality customer service. When you hire someone simply on the premise that they offer the cheapest prices, you are going to be disappointed with the final results. Keep in mind that you get what you pay for.
If you would like to be able to enjoy the final outcome for years to come, make it a point to only hire true professionals. We take great pride in the work that we do and that is evident in the results we are able to deliver for each client, every time. You can count on us because we make each job that we work on the top priority while we are working on it. Don't ever settle for less than the best when it comes to the work you get for painting your home or business.
Clay Exterior Pressure Washing
For the best of the best, when it comes to keeping your exterior clean with pressure washing in Clay, NY, you can count on us to get the job done. Over time, the outside of your building can begin to look dirty and rundown, all of which looks unsightly and even begin to negatively impact the property value of your home. For the very best in services like this, and all of your Clay painting contractor work, you can count on our pros here at Team Prestige Painting.
If you are looking for a professional Clay painting contractor then please call 315-632-8164 or complete our online request form.