Local Interior Painting Experts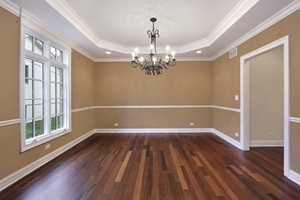 When you are in need of a professional to work with for your interior painting service needs, you can count on the team here at Team Prestige Painting. The problem is that a lot of people think that they are qualified to take care of painting their own home, at least when it comes to the interior rooms. What they do not realize, but will quickly come to find out, is that this task is not as simple as it may seem, especially if you are expecting expert results.
For starters, interior painting in Syracuse, NY is not just about the painting aspect - in fact the large majority of the job is preparing the space and then cleaning up after. Before starting to paint you have tasks like taping off the walls and ceiling, covering the flooring and remaining furniture and fixtures and prepping the walls – including making any wall repairs that may be needed. So don't find out the hard way that you would have been better off hiring a professional painting contractor. Go ahead and make the call to schedule your consultation with us today, or use our convenient online booking system to set up your appointment.
Quality Interior Painting Results
It also helps to work with a professional in order to be certain that you make the right choices about things like interior color choices. You need professional guidance in order to be certain that you do not make decisions that you will immediately regret. Keep in mind also, you have to buy all of the supplies, most of which you will never use again. Spending money for trays and brushes that will then take up prime space in your garage is not a wise choice to make as a homeowner.
The bottom line is that without the proper training and hands on experience, you can't really be expected to get the same level of quality results as an industry professional. Don't take chances when it comes to the quality of work that goes into your interior painting services in Syracuse, NY or the surrounding areas. Call on Team Prestige Painting and love the final look, for years to come.
Interior Painting Services
You don't want to get done and end up seeing roller or brush marks; you want even application without drips. All of this can easily be handled by letting our painting services company get the job done. We take great pride in the work that we do and that is evident from the results that we are able to provide for each or our residential and commercial clients.
If you are ready to get started with your interior painting work in the area, give us a call. Or, feel free to use our handy self-booking chart to request an appointment time. When you make the wise choice to work with Team Prestige Painting, you can feel confident that you are going to love the results of your interior painting investment.
If you are looking for a professional for interior painting in Syracuse, NY or nearby, please call 315-632-8164 or complete our online request form.