Choosing Just the Right Color for Your Exterior Painting Project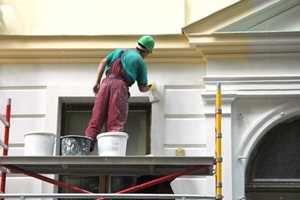 Think about how important it is for the outside of your home to look its best. For one thing, your home's exterior is what makes the first impression with neighbors and visitors. The look of your home either adds to or detracts from the amount of curb appeal your home has. Plus, this can positively or negatively impact the overall property value of your home. Of course, it should also come down to what you enjoy when you pull in your driveway each day after a long day at work. Hence why exterior painting projects are often at the top of many homeowners' to-do lists.
So, for starters, it means making sure that you have your exterior painted when the time comes. Don't put off getting this done and wait so long that you become oblivious to the fact that it looks completely run down. In between exterior painting jobs completed by a professional painting contractor, a proper exterior pressure washing can help get the job done. It is also about picking just the right color so that you love the way it looks, as well as making sure it works cohesively with the other details of your property, such as landscaping, and the surroundings as well.
Exterior Painting Tips & How to Avoid Mistakes
One of the most common problems homeowners run into is trying a new, trendy color choice for the outside of their home. The problem with that is the color usually doesn't mesh well with the house style and becomes a color you don't like looking at after just a few weeks. You can introduce unique and trendy colors in other ways, such as flowers that you plant. Just don't commit to your entire home being that color, unless you are prepared to repaint the house again in a year or less.
Another common error that homeowners end up making with exterior painting in Syracuse, NY is going bold with a color in an attempt to break away from the old color. The truth of the matter is, there is nothing wrong with getting the same color painted on your home's exterior. You already know it works and like it; getting the old color freshened up will still give you the opportunity to improve the overall look of your home. Why take a gamble when you could end up with a color that you hate or that looks terrible?
Making the Smart Call
When you make the wise decision to call on Team Prestige Painting for your exterior painting project in Syracuse, NY, you can rest assured that you are going to be getting the best results possible. We work with each client and make every attempt possible to help them make a choice about color that they will not just live with but love, for years to come. Go give us a call today and let's start discussing your upcoming exterior painting project.
If you are looking for a contractor for exterior painting in Syracuse, NY, then please call 315-632-8164 or complete our online request form.