How To Plan Interior Painting For Excellent Results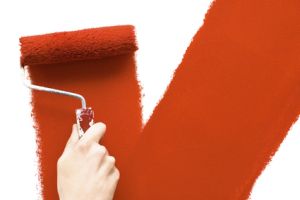 Whether you hire a professional painter or want to handle the interior painting yourself, starting the project off with a good plan is highly important. The first order of business on your interior painting plan should be to determine how long it would take you to do it and at what expense vs. hiring a professional Painting Contractor.
Taking care of the interior painting is one of the more enjoyable tasks to plan for, but it does take a lot of work.
Selecting a new color and seeing how a fresh coat of paint changes the room gives you complete gratification. You can do as much as a full-scale whole-home interior painting project or do something just so the holiday décor gets noticed. Adding a new color to your rooms can create a total transformation. Even simply freshening up the color you already used but minus the grime, dings and natural aging showing through can make a big difference. But it is important to consider important things before making decisions about interior painting.
Figuring The Painting Budget
When figuring out whether or not you want to hire a professional painter, you'll need to figure out the budget. Keep in mind that all the tools and supplies to do the project have to be bought if you do it yourself. Unfortunately, most of the tools and supplies can't be reused, so if it takes a couple of days to do a few walls, you'll be buying rollers and other supplies all over again to finish the project.
On the other hand, a professional painter has all the supplies on hand that they purchase in bulk. They have the ladders and other equipment with helpers to get the job done quickly. Professionals can help you paint the house much quicker than doing it yourself. A weekend project can turn into months of trouble that you really didn't have time for. All the while, there's a mess that has to be kept clean even though the room you are working on is useless until the final stroke of paint dries.
Interior Painting – Making Choices
When you work with skilled experts, like our crew at Team Prestige Painting, you are going to get to make a lot of decisions. A professional painter will walk you through the process, let you know about your choices and will guide you to make these important decisions. So before you even get to that point, here are a few things to consider:
Sample a board first - So you narrowed it down to a soft shade of ivy you are sure you will love. But, just to be sure, try painting a large board that color and set it in the room. This will help you determine if you really can live with it day after day.
Take wall condition into consideration - Any professional will first repair your wall and create as smooth and perfect a surface to work from as possible. Never trust a painting contractor who simply applies paint to an unprepared surface.
Think about lighting - The color you think you love is going to look completely different in various lighting situations. You should get a feel for this color on gloomy days, in full natural sunlight and at night under just your interior lighting. Choose a hue that withstands all of these lighting situations.
Go beyond basics - Another option to consider is going with something that offers more depth to a room, such as texturing or faux painting. You can really transform the look of a room by changing, not just the color, but also the painting technique used.
Choose the Painting Contractors
Now all you have to do to get your interior painting project started is to hire the right crew to get the job done. At Team Prestige Painting we have the dedication to superior work and customer care that has made us number one in the area. When it comes to interior painting, we are the team you can trust for exceptional results.
If you would like more information about Interior Painting in Syracuse, please call 315-632-8164 or complete our online request form.